For Mother's Day, we tried to take a family photo. Here's a great idea, we thought. Let's use the nifty feature on our new camera that lets you take a whole series of shots in a row. That way, we're sure to get one with all of us looking decent. Judge for yourself: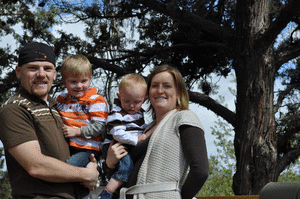 Make a gif
So instead, we retreated inside and for dinner, enjoyed delish enchillas cooked by Scott and appropriately named, "Supernatural Brownies" made by my favorite bakers.
These are the boys that make me a mother. What a gift they are!